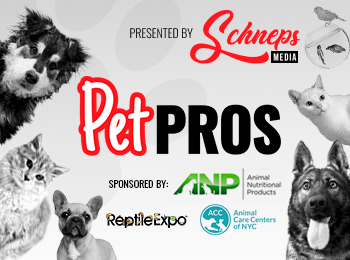 RULES and CONTEST LEGALITY
Schneps Media is conducting a pet photo contest in New York governed by the following rules for entry.
Contest dates for entry and voting will be published on petprosny.com during the months of February through April of 2023 and are subject to changes as published.
YOU MUST BE 21 YEARS OF AGE or older and reside in one of these counties to enter this contest or win a prize: Dutchess, Nassau, Suffolk, Bronx, Kings, New York County, Putnam, Queens, Richmond, Rockland, Westchester, or New Jersey.
To enter the contest, you will be required to submit this information on the website of https://petprosny.com
Your first and last name

A valid email address

The county you live in

Your pet's name

A jpg or pdf of the pet you are entering into the contest
There are NINE prizes available to win. Each prize value does not exceed $50 and consists of merchandise and/or gift certificates. Winners will be published online in April 2023 on https://petprosny.com Winners will be notified by email and given instructions on how to claim their prize.
Photos of pet contest entries may be used in contest promotion and entrants will forfeit any compensation for the commercial and promotional use of their pet's photo by Schneps Media.
IF YOU WIN A PRIZE, OR IF YOU ENTER A PHOTO OF YOUR PET IN THE CONTEST, YOUR FIRST NAME AND THE FIRST LETTER OF YOUR LAST NAME WILL BE PUBLICLY PUBLISHED ALONG WITH YOUR PET'S NAME.
These are the nine prize categories that can be won.
BEST BIG DOG (36 plus pounds)

BEST SMALL DOG (35 pounds and under)

CUTEST PUPPY

BEST GROOMED DOG

FURRIEST CAT

CUTEST KITTEN

PRETTIEST KITTY EYES & FACE

FUNNIEST (OR "DERPIEST") FELINE POSE

BONUS PRIZE randomly drawn from all voters!
NO PURCHASE IS NECESSARY to enter or win this pet photo contest.
Employees and vendors of Schneps Media and their immediate families living in the same household are ineligible to enter the contest. Contest registration and voting and voting is calculated by third party, Wehaa Design, who professionally manages contest software technology.
You may enter only ONE PET per email address.
You may enter your pet in one or more appropriate categories (example is BEST GROOMED and BEST SMALL DOG).
You may cast a vote once per day during the voting period.
All timing will be published on https://petprosny.com (Dates to enter, dates to vote, winner announcements).
All votes are held private.